Media tries, fails to explain why TIF is so confusing:
[E]ven Mr. Orr and top aides [are] unsure exactly how much money is in Chicago's TIF coffers.

…

There are now 158 TIF districts in Chicago, and they generated $519 million last year, Mr. Orr said. In all, there may be a shade over $1 billion in unspent TIF money.

While Mr. Orr contends it's a "travesty" that most Chicagoans are clueless about all that money, one can't dispute that TIFs are central to development, especially downtown. And it's hard to dispute how they allow municipalities to support development without raising property taxes.
Well, let me be one to dispute.
First off, the "travesty" is the city bookkeeping is so bad that we cannot even tell the citizens how much money is in the accounts.  That's front page news and a good reason to toss every last elected bum out at their arse.
Second, it is also unacceptable that over $500 million is placed into the TIF's annually for dubious reasons.  These are funds that could be used to put more police on the street, improve failing schools, or simply to shore-up our pension liabilities or now annual budget shortfall.
But more to the point, TIFs are not central to development.  TIFs were invented in California in 1952.  Illinois didn't create its TIF statute until 1987.  How did we develop prior to 1987?
The Chicago TIF truth is that dozens of brand-name companies have received millions and millions of tax dollars from TIF funds.  UPS, CNA Insurance, MillerCoors, the Chicago Mercantile Exchange, Willis Insurance (the "Willies Tower" people), Quaker Oats, United Airlines, and CareerBuilder and just a few.  TIF dollars also went to support a local Mercedes dealer to build new dealership on some of the most valuable land in the city.  Oh, ya, and the Wrigley people to build on the best peninsula in the river (payback for helping with Millennium Park.)
The simple truth of TIF can be explained in one simple graph.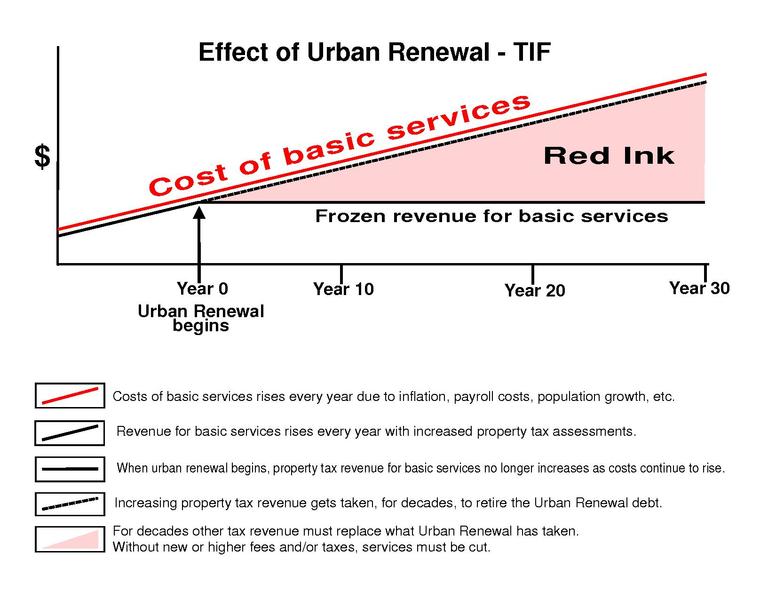 Click on the image to expand.
TIFs are a way to rob the person to actually invests in a neighborhood, the home or business owner.  A family moves into a neighborhood effected by a TIF and part of their property taxes goes not fund their police, their schools, their garbage collection or other city services, but rather to improve the lifestyle of the rich-and-famous and politically connected.
TIFs are inherently evil and should be done away with.