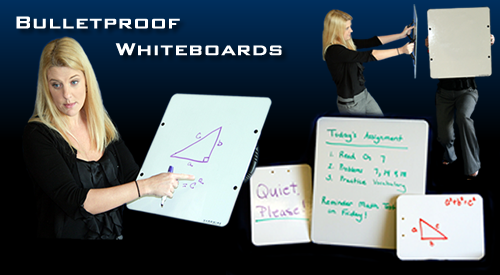 In December, George and his young son were watching the horrific details of the Sandy Hook Elementary School murders on television and when he saw the fear in his son's eyes, his engineering brain kicked in. He said to his son, "We can fix this. We have to do something."

via TheBlaze.com.
Very cool concept.
These are the kinds of ideas that I like.  They 'harden' the target.  We need to make schools safe for kids.  We did it against fire; now it's time to do it against the 'active shooter'.
I quoted from this article before, but not this segment:
"How many kids have been killed by school fire in all of North America in the past 50 years? Kids killed… school fire… North America… 50 years…  How many?  Zero. That's right.  Not one single kid has been killed by school fire anywhere in North America in the past half a century.  Now, how many kids have been killed by school violence?"  …

"In 1999," Grossman said, "school violence claimed what at the time was an all time record number of kids' lives. In that year there were 35 dead and a quarter of a million serious injuries due to violence in the school. How many killed by fire that year? Zero. But we hear people say, 'That's the year Columbine happened, that's an anomaly.' Well, in 2004 we had a new all time record — 48 dead in the schools from violence. How many killed by fire that year? Zero. Let's assign some grades. Put your teacher hat on and give out some grades. What kind of grade do you give the firefighter for keeping kids safe? An 'A,' right? Reluctantly, reluctantly, the cops give the firefighters an 'A,' right? Danged firefighters, they sleep 'till they're hungry and eat 'till they're tired. What grade do we get for keeping the kids safe from violence? Come on, what's our grade? Needs improvement, right?"
"Why can't we be like little Johnny Firefighter?" Grossman asked as he prowled the stage. "He's our A+ student!"

He paused, briefly, and answered with a voice that blew through the hall like thunder, "Denial, denial, denial!"

Grossman commanded, "Look up at the ceiling! See all those sprinklers up there? They're hard to spot — they're painted black — but they're there. While you're looking, look at the material the ceiling is made of. You know that that stuff was selected because it's fire-retardant. Hooah? Now look over there above the door — you see that fire exit sign? That's not just any fire exit sign — that's a 'battery-backup-when-the-world-ends-it-will-still-be-lit' fire exit sign. Hooah?"

Walking from the stage toward a nearby fire exit and exterior wall, Grossman slammed the palm of his hand against the wall and exclaimed, "Look at these wall boards! They were chosen because they're what?! Fireproof or fire retardant, hooah? There is not one stinking thing in this room that will burn!"

Pointing around the room as he spoke, Grossman continued, "But you've still got those fire sprinklers, those fire exit signs, fire hydrants outside, and fire trucks nearby! Are these fire guys crazy? Are these fire guys paranoid? No! This fire guy is our A+ student! Because this fire guy has redundant, overlapping layers of protection, not a single kid has been killed by school fire in the last 50 years!

"But you try to prepare for violence — the thing much more likely to kill our kids in schools, the thing hundreds of times  more likely to kill our kids in schools — and people think you're paranoid. They think you're crazy. …They're in denial."

via Police One.
We need to address this problem with a multi-layered solution.
Our school must be made safe.